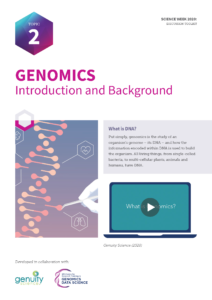 Well done to all the cohort 2 students who helped SFI staff to develop the Genomics Discussion toolkit for "Science week  – Choosing our Future" focusing on how science can improve our lives in the future, and in the present.
SFI developed a discussion toolkit that provides background and discussion stimulus for four topics suitable for teenagers and adults. Cohort 2 students and in particular Rasha Shairm and Shane Crinion worked on providing trustworthy content and links for the  genomics toolkit and to factcheck the materials before publication.
The SW-2020-Discussion-Toolkit-Genomics introduces and provides information on  genomics and asks groups to discuss, consider and debate the impact of this technology on our future healthcare.
Great public engagement by all the students involved!