The Systems Genomics Summit  is an annual meting organized by a committee of PhD students from five Irish universities (NUIG, RCSI, TCD, UCC and UCD).
The summit was originally scheduled to take place in December 2021 but had to be cancelled due to the arrival of Omicron but the students have now rallied to put the event online and it will now take place on the 3rd and 4th Feb.
The symposium will highlight research that falls under the umbrella of computational genomics and systems biology, with a focus on four broad research themes: Methods development and systems biology, Metagenomics and agrigenomics, Evolution and population genomics, and Health and disease genomic
To view the programme and register for the event see here
The organizing committee are Rasha Shraim (TCD), Shane Crinion (NUIG), Cosmin Tudose (UCD), Tembi Fashina (RCSI), Padraic Heneghan (UCD), Donal O'Shea (NUIG), Anjan Venkatesh (UCD), Marina Villacampa Fernandez (UCD), and Sai Ravi Chandra Nori (UCC)  who all started their PhDs in the midst of a pandemic and are all looking  forward to hosting this fantastic event online this February!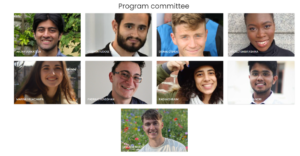 We look forward to seeing you all at this online event!