On 1st June 2022 all CRT students gathered in Galway for the CRT Genomics Industry Day. The meeting ha d over 130 participants and it wasa fantastic opportunity for students, supervisors and companies to connect and learn about the key skills companies are looking for in our graduates and gain a better understanding of the challenges that Ireland is facing to develop and implement a national health related genomics policy.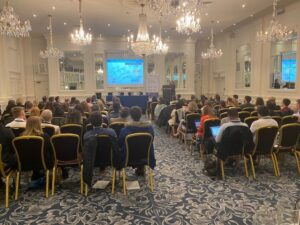 The morning session focused on identifying key skills that our students should develop and there were talks from 5 companies – Akure, Illumina, Boehringer, MSD Animal Health, Boehringer Ingelheim and Congenica. The panel discussions and opportunity for Q&A was particularly useful for students (and for supervisors) to understand what skillsets students should have. A summary of the key skills identified during the meeting can be found here
Lunch time provided a valuable time for networking and for students to chat to the industry participants and talk about careers in industry.
The afternoon session focused on presentations by key stakeholders (e.g. industry, government, academia, patient/charity) on their vision for the development of a genomics healthcare policy in and what the current challenges are to achieving this vision.
The final meeting programme can be found here and we would like to say a big thank you to all our speakers and panel chairs.
Overall it it was a very successful meeting that that all participants enjoyed and found useful and it was also notable in that it was the first large in-person meeting for the majority of participants!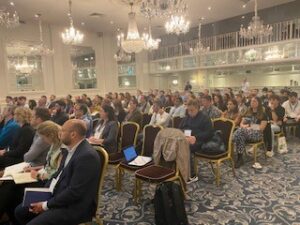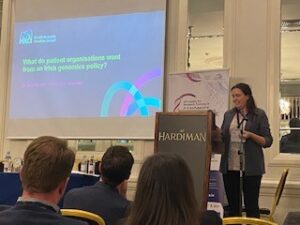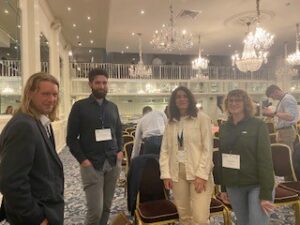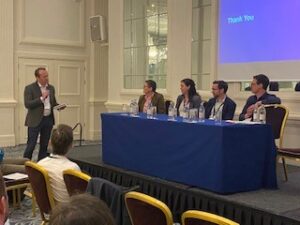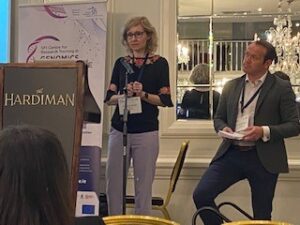 Industry participants included
ADM
Akkure Genomics
Boehringer Ingelheim
Congenica
Creme Global
Define Tech Ltd.
Health Research Board
Health Research Charities Ireland
IdentiGEN
Illumina Ltd
Metabolon
MSD Animal Health Data Labs
Novartis
Novartis
Remedy Biologics Limited
Ribomaps
Roche
VWR