Well done to CRT students Alla Fedorova, Jack Tierney and Oza bib Zaheed Maheswaran who were trainers on the  EMBO practical course  'Measuring translational dynamics by Ribosome profiling' from 3rd-9th May 2021. CRT supervisor Pasha Baranov was one of the course organizers.
The course consisted of pre-recorded talks and online Q&A sessions from the most knowledgeable and skilled researchers in the translation field combined with workshops where the key steps of the Ribo-seq protocol and computational data processing were thoroughly presented and discussed.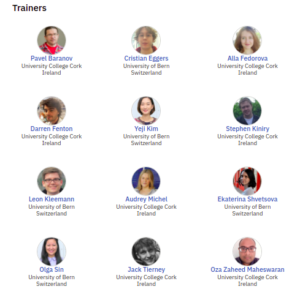 The role of the CRT student trainers was to prepare short and coherent tutorials dedicated to tools developed in their lab (these can found  in the main website –  RiboSeq.Org, https://riboseq.org/):
GWIPS-viz, https://gwips.ucc.ie/ – genomics data browser for visualization of ribo-seq data based on UCSC genome browser
TRIPS-Viz, https://trips.ucc.ie/ – visualisation and analysis of Ribo-seq data at the level of a single transcript/isoform
RiboGalaxy, https://ribogalaxy.ucc.ie/ – an instance of Galaxy which provides on-line tools for the analysis and visualization of ribo-seq data
There was a Q&A session dedicated to discussion of these tutorials, where the CRT students also demonstrated what can be found using these tools (e.g. translated non-coding RNAs, uORFs, nonAUG initiation and other) and various anomalies  in gene annotation.
On the last day of course, students on the course were able to participate in a data mining competition on sleuthing unusual gene expression behaviour using Trips-viz, GWIPs-viz and any other databases or software that could help. The  purpose  of  this  competition  was  to  provide  them  with  hands-on  experience  in exploring  and  interpreting  publicly  available  data. Our CRT student trainers  were very happy as the course participants did a fantastic job demonstrating serious interest and aptitude, even if all genes in a competition were based on previously reported anomalies, they still managed to discover something new. The four best presentations were honored with prizes and awards, and their names were Immortalised in RiboSeq.Org Hall of Fame.