We would like to welcome our 28 new PhD students to the CRT.
Coming from 12 different countries they have a huge range of talents and interests and we're delighted to have them on the programme. Their backgrounds are varied and include  Mathematics, Genetics,  Biomolecular Science, Computational Biology, Philosophy, Cell Biology, Biomedical Genomics, Bioinformatics, Physics, Engineering and Biotechnology and they will be a great source of help and support to each other over the next 4 years and beyond.
Due to Covid19 our 1st semester residential training course is being carried out online this year but there will be plenty of opportunities for the students to get together for training, team building activities and some much sought after socialising once the situation improves!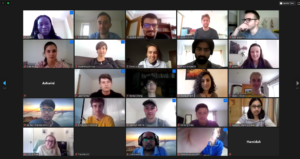 WELCOME ON BOARD!